Email template design
Our email template design is based on years of experience. We know what works and what doesn't in terms of layout and design. Our design team produce fully responsive email template design that's proven to display correctly in the most popular email clients. Our templates are designed around the Foundation for Emails framework, ensuring consistent results everytime.
Email template development
We code our templates from the ground up using the Foundation for Emails framework and code base. We've chosen this framework as it's been tested over and over again across multiple email clients. Even the most troublesome systems such as Outlook 2009-2013. In situations where more modern coding trends are not supported we add in backward design compatibility to ensure great results every time. We've recently been accredited as MailChimp experts in the email marketing field, although we develop our templates for many email marketing systems. All our email templates are fully tested upon completion using Litmus. This allows us to perform inbox inspections on the most popular email clients in mobile, tablet and desktop environments.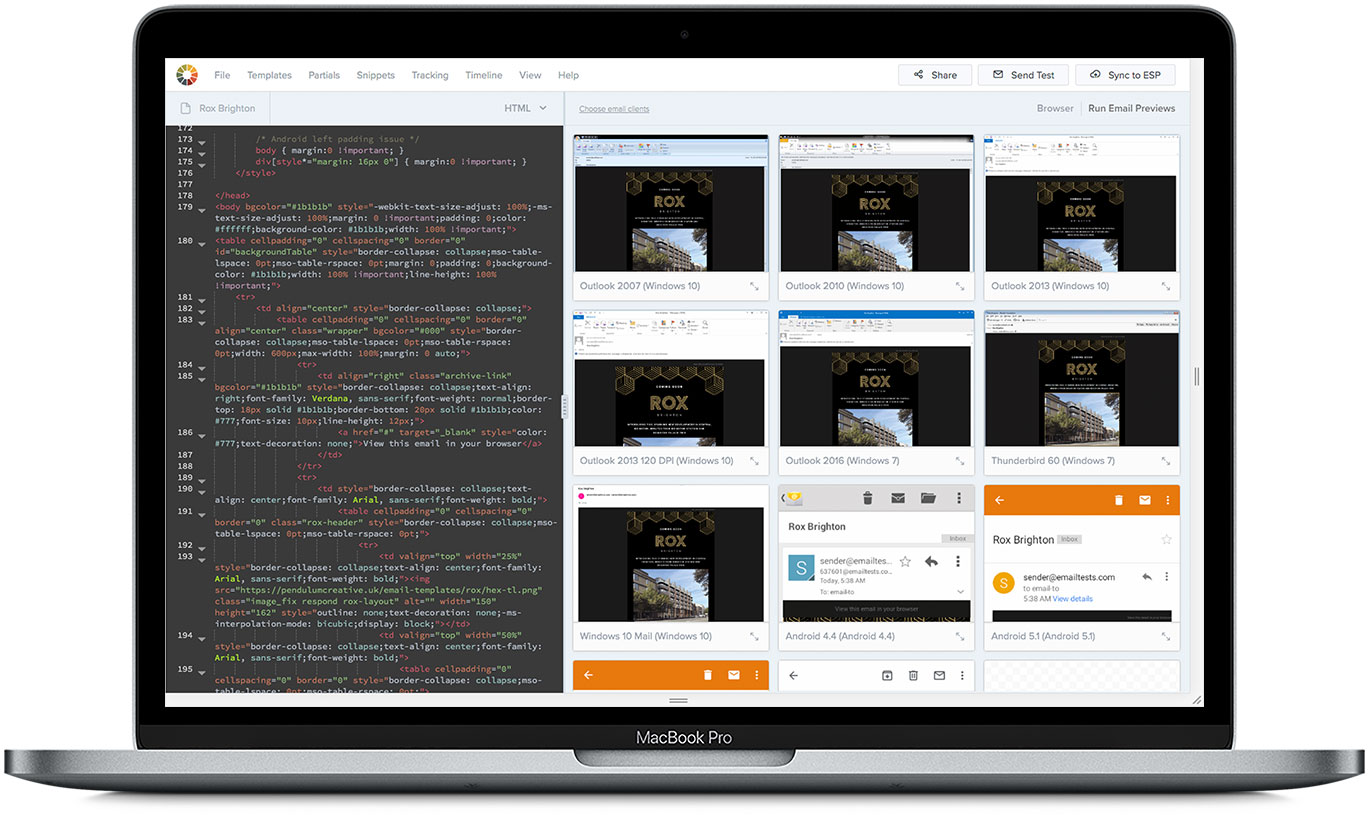 Fully tested across multiple email clients using Litmus
Campaign creation and email marketing management
We have designed, developed and managed email marketing campaigns for many clients. We offer ongoing support and campaign management for many of the most popular email marketing services such as
MailChimp
,
Campaign Monitor
and
Salesforce
. We are
MailChimp affiliated email marketing experts
. Our ongoing management service covers the upload of finalised templates into an email marketing system of choice. Our management service covers the following;
Template upload
Pendulum Creative will upload your finalised email template to the system of your choice, re-checking the code and performing further inbox inspections to ensure your campaign looks as it should when your recipients receive it. Designing rock solid and reliable email templates is a tricky process due to the nuances that exist with all the different email clients available. We have the required knowledge to achieve reliable results every time.
Client editable campaigns
We offer client editable templates for users that want to manage ongoing campaign send-outs themselves. We insert additional code (unique to the email marketing software that is used), that allow clients to insert copy and imagery themselves. Although a more cost effective option, the downside is the initial template design is usually simplified to allow for more successful editing by users.
Pendulum managed campaigns
Pendulum Creative offer our clients the option for us to manage their ongoing email marketing communications using Campaign Monitor, our preferred email marketing software. Having set up a client account we manage the entire process of setting up a campaign. From template and recipient database upload, through content insertion, to campaign delivery and performance analysis.
A/B split testing
For some campaigns Pendulum advise A/B split testing. This is where we work with two slightly different versions of the same campaign, such as alternate subject lines and/or content. When sending the campaign, both versions are sent to small portions of the recipient database. The version with the most successful outcome (defined by the desired user interaction) are sent automatically to the remaining recipient database.
Drip-feed campaigns
Drip-feed campaigns are planned, often automated ongoing email send-outs based on recipient behaviour. For instance, if Pendulum undertake a drip-feed campaign we will design and develop a number of email communications to cover recipient interaction or lack thereof. A typical example would be a campaign is sent and there is no interaction from a recipient. We then automatically send a version a week later with slightly different content, perhaps with an incentive or call to action to provoke a reaction. This process can then be repeated, or an alternate strategy put in place to generate the desired outcome.
Support and analytics
The success of any email marketing communication needs to be defined at the beginning of the project. Only then can we determine the effectiveness when analysing the statistical report we generate after a campaign has been delivered.
Tell us about your project
Whether you're after brand creation, print collateral, user interface design and development, website or app development our in-house design and development team can help.